Encouraging your child's creative writing skills is one of the fun ways you can help improve their overall academic abilities. The art of crafting their own stories, using descriptive language and understanding the structure of a story, as well as spelling and grammar, all come into play when we write.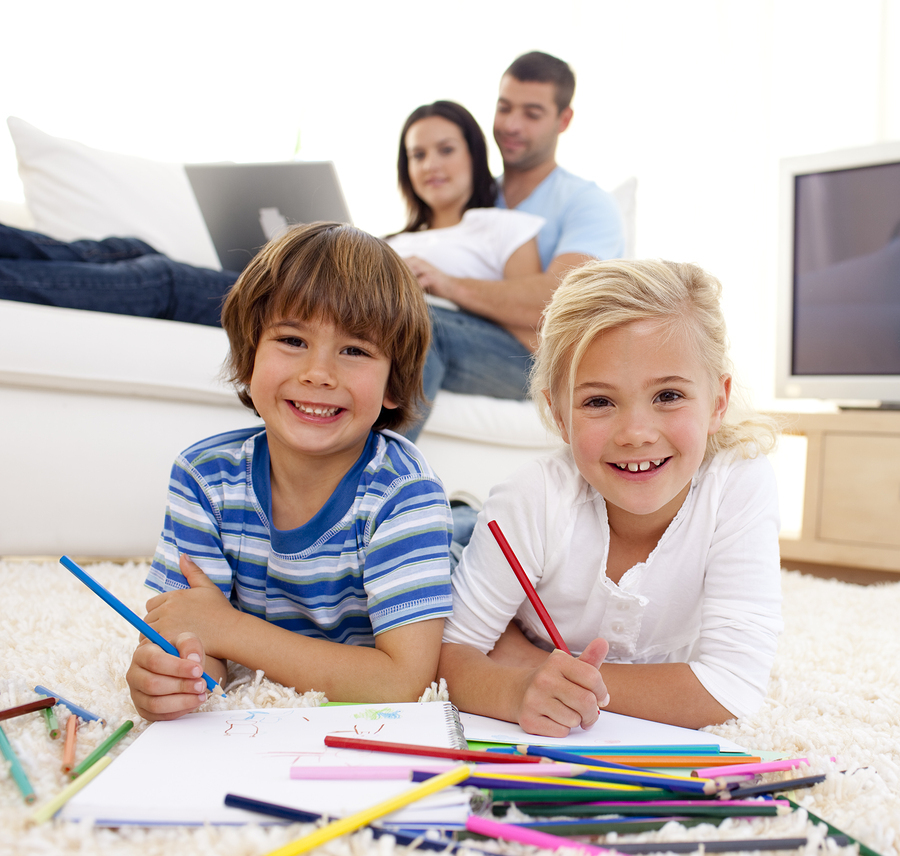 Encourage your children's creative writing to flourish with fun activities at home.
Studies even show, according to readwritethink.org, that children who learn the art of creative writing, acquire the skills to organize their thoughts, and communicate better. So, by making creative writing a fun activity, you can help kids to be better at reading, and to understand and connect with other people's writing with greater ease.
According to imaginationsoup.com, there are many activities and ideas you can try to get kids writing. The trick is to find the ones that inspire your children the most and keep the focus on fun. You may be surprised at how their imagination, and vocabulary, come together to create some impressive examples of really great writing.
7 Top Ways to Get Kids Writing:
Create activities and games: For example, pick two objects to write about, making certain that don't have any obvious connections with each other: like ladybug and pencil, strawberry and hat, or truck and swing, for example. Ask them to write a description of each object, giving as much detail as possible. You can choose to set a time limit, which makes the exercise more of a game, but make it reasonable, so they have time to form proper sentence structure. Finally, ask them to look at the two paragraphs they've just written, and to write a final paragraph explaining how the two objects are connected. Encourage them to create a connection by making up a short story. Share the creative connections out loud with each other.
Write poetry: Start by reading some poems to your writers than ask them to write a few lines of their own poem. It does not have to make sense, but focus on the rhythm that the words create with their sounds.
Piece together writing: Create a grab bag of words written on pieces of paper. Draw out three words and ask the kids to write a poem or short story using those three words.
Write different poetic forms: Expand their poetry knowledge, from limericks to tetractys, with step-by-step online workshops. This teaches them everything they need to know about structure and rhythm.
Finish sentences that leave you hanging: One way to get the creative writing juices flowing is to start kids off with an unfinished sentence and let them decide how to finish it. Make it fun and silly. There are activities online where you can download examples and writing exercises such as these, just in case you need something to spark your own imagination!
Thought bubble writing: So if your kids were a cat, what would their thought bubble say? If they were an angry monkey, would that thought bubble be filled with a different tone and expressive language? Create "fill in the thought bubble" worksheets with everything from your dog to the living room sofa. Have your kids write what that object is thinking and express in detail what they may want, what their day has been like, or what their favorite thing is.
Write short stories to read at bedtime: Once you have your kids are writing stories, have them write a few bedtime tales that you can read together when you tuck them in at night. Create a collection of stories and publish them so your children have the pride of being an author and let them illustrate their stories too!

Publish your child's stories into a real book and make them a bedtime treat.
According to an article on greatschools.org, you need to make it fun. Make writing projects creative, and exciting, and something you can do together. Publishing your child's writing is another project they can work on with you that supports their creativity and pride in their writing. You can raise the level of fun in writing by publishing your child's story into a real, professional-looking book. Your child can even help design the book and decide what the finished product will look like.
Look for online sites like Bookemon.com, one of the first to cater to teachers and parents by allowing you to create and publish your own books. It is simple and easy to use, so even your children can do it with impressive, professional results. The free software allows for endless possibilities to publish any type of book.
Simply create a free account and then choose a template to lay out the book. Next, upload any written content from PDF or Word Files onto the pages and customize the pages with a special font or clip art from the menu of options.
Finally, you can upload and edit photos (or even drawings) onto the pages of the book. Once your child has completed their book, you can share it through email, or you can choose to order copies of it to be printed.
Getting started is fun, free, and easy. It will encourage your child to explore the creative writing process, give them the pride of being a published author, and expand their love of books.